This page will record our travels in August - although there won't be much of the month left by the time we get back to Ocean Rainbow!  Here's a picture of her as we left on Saturday morning (3rd August) and set off to return to England.
13th August we returned to Coruna (both of us after a change of travel plans for Claire) having had  a really easy return trip and found all in order with Ocean Rainbow.   We cleaned her off, shopped and stowed everything and then we headed off again on our travels.   We first went to Ares to rescue a towel and then on to Redes.
The diary of events below is written in chunks so the chronology may appear a little odd!
29th - 31st August - The end of another month at sea
What a great way to end the month with a reunion with Swallow and Hecla.
On the 29th we set off to try and meet up with Hecla and Swallow in the Ria de Arousa.   We thought we had to be ashore for that evening to make a Skype call but that was cancelled - however, not before we had medi-moored in Punta Niegras with the help of a very friendly marinero.  Not so sure he was so happy to be called back 20 minutes later to help cast us off!!   We then continued our way to the Ria de Arousa, negotiating our way through rocks and mussel beds.   We were so delighted to see Hecla and Swallow moored in the bay and even more delighted to find that Elliot had spotted us and came over in his RIB to ferry us across to the shore for a reunion beer.
30th August We had a great afternoon exploration to the Islas Galineiros.  What beautiful sands and what an idyllic place to take a picnic and spend the day.    We had a great time wandering around, Elliot managed to stay in the water for simply ages but the rest of us only had a short swim ... the waters here are totally freezing!!
Friday was also the beginning of the Octopus Festival in San Xulian so we made our way to the main harbour to find an array of tents and tables and chairs all ready for the locals to sample various octopus dishes.   We did our level best to make the most of it.  James and I enjoyed the BBQ version but Elliot went for the chili while Jon had the version that came with chorizo sausage and potatoes!   We also tried Paella and the octopus cakes .... actually very tasty and possibly the easiest on the eye, all mushed up and served deep fried.  The best thing was the wine - Bouza's wine!   Very appropriately named, we fear!   We actually called it a night fairly early (for Spain) as we had all forgotten to bring warm jumpers for the cooler evening air.
31st August Swallow decided to fly to pastures new.  It had been good to catch up.   We toasted our reunion on Hecla with Bubbles supplied by Swallow and then wished her Bon Voyage later in the afternoon.  Hopefully we will see them in the Canaries.   We had a planning meeting with Jon for the next stage of the trip.   Jon needed some sacrificial anodes replacing and wanted to put a rope cutter on his prop.  This involved finding somewhere to lean against a wall and dry out to give access to the prop - Jon had seen somewhere on his travels so we agreed to set off on Sunday morning to give him a hand.   However, before we bid farewell to San Xulian we had a veritable fish fest - well it was a fest as far as Claire was concerned as cooking fish is not her strong point so it was a challenge to go to the market and buy something that looked edible!   Luckily Vicky is far more adventurous and had given some tips to ensure that our first experiment would not disappoint.    The mussels were the fall back option - both were delicious.     Hard to believe it is the end of another month at sea and we are about to set off to another country.   Time just seems to fly past.
25th - 28th August - Total Veg Out and then a Culture Fest!
It was a bit of a shock to have Ocean Rainbow to ourselves again.  We loved having E&V on board and it was fun catering for 4 rather than 2!    To recover and get back to equilibrium we decamped to Barra Beach.
Sunday 25th August - Once we had caught up on our beauty sleep we thoroughly enjoyed the peace of  Barra Beach. We had a Doby Day and Admin, we gave the engine a rest and rowed Puddle ashore for our constitutional walk and we had an evening service on board - that was about it !   Monday 26th wasn't much more active but we did fix the igniter on the cooker and afterwards celebrated with a totally delicious lunch at the beach restaurant.  We'd set off early for our constitutional promising ourselves ice-creams instead of breakfast but, needless to say, our morning whizzed past and we were approaching 2pm before our tummies decided to protest.   No idea what type of fish we ate, but it was totally scrummy.   We wandered back along the beach afterwards and rowed home.   That was the sum total of Claire's activity - however, James actually did a mean BFT (Battle Fitness Test)!   At 1834hrs he received a text message and a minute or so later he read it, at 1905 he was seated in an internet cafe.   In order to achieve this he had rowed ashore in Puddle (200m), run along the beach carrying a backpack (1 mile) and up a hill (500m)!    Did I mention his beach landing?   Quite spectacular as he hit the beach running, cartwheeled and landed in the sand - backpack and iPad still intact!  Can't tell you how sorry I am that I didn't have the camera at the ready!   When he finally got back Claire got out the trusty medicine chest, dosed out arnica tablets, administered arnica cream, voltarol and lots of TLC!
We are now in Combarro - apparently the second most visited place in Galicia on account of the horreos.   We first came across these in Ribeiro.  They are made of wood and stones nowadays but formerly were made of plaited cane with thatched roof.    From the sea they look as though they float on water and Combarro means the 'Coast with Horreos'.
Now, if this isn't enough culture for you, Combarro is also known for its 'Cruceiros' - considered as one of the most genuine expressions of Galician architecture.  Situated at a crossroads these Cruceiros were designed to christianize pagan cult places.   As a result they are identified with magic places where witches and meigas gathered.   One small addition to the culture - this area is famous for its white wine - Alberino!   Claire thinks the accolade  is well deserved.
The marina in Combarro is great, with good facilities and at  23 Euros a night we reckon it's good value for money!   (Actually a postscript - not so good as the WiFi is down and we had to cycle to the end of town to find a bar that actually has WiFi working!)
Wednesday 28th we continued with the "culture vulture-itis" and set off at 0830 in a taxi to Pontevedra where we caught the train to Santiago.  What a pleasure travelling on spanish public transport.   On the return trip we took the bus from Pontevedra back to Combarro and had the benefit of some extra sightseeing - OK the photo might not be of the current  famous bridges but who knows, it might be one of the future!
Anyway, the reason for the trip was to visit the Cathedral of Santiago de Compostelo which is dedicated to St James who reputedly brought Christianity to the Celts.   As you will realise there was a double reason why a visit was imperative!!    We were not disappointed.  The cathedral is amazing from its baroque facade covering romanesque architecture to its gold embellished high altar but perhaps the most amazing thing to witness was the gathering of the pilgrims.   In fact we were so interested in the gathering that we jolly nearly missed the actual Pilgrims' Mass which occurs daily at midday .... by the time we'd finished taking photos of the outside we found they'd shut the doors and we had to scoot around to a side entrance to get in!   The benefit of having arrived earlier and done a recce meant we got to those doors in time!    As the service was in spanish we were only able to enjoy the atmosphere - but we were glad to have been there.
On our return to Combarro we set about the last chore on our list ... mending the slow puncture in Puddle.   We're just hoping that our measuring of ingredients is accurate.
 19th - 24th August Edward and Verity's visit to Ocean Rainbow
19th August - 20th August-  We set off from Vigo marina after a leisurely start.    The wind was fickle so we didn't get very far but it was enough to give Verity a chance to try her hand with warps, fenders, sheets and knots and to remind Edward of the skills he once had!   - a modicum of success as 3 scallops were removed from the seabed but once opened and cleaned there was nothing left for human consumption!  As for the sea slug that came up with scallops .... he squirted sea water at us all and was then thrown back to continue his life in peace.
20th -21st August Islas de Cies - We had applied for permits to anchor off the beaches at Islas de Cies as we had heard that they were really beautiful.  Sadly the number of visitors, campers and visiting boats rather took away from what could have been a stunning anchorage.   Not sure swimming would ever be a good idea as the number of seagulls and the resultant 'poop' made the shoreline rather smelly - to the extent that Verity remarked on our fishy smell on return from a dip!   The beaches on these islands didn't appear to be cleaned up on a regular basis (unlike the other beaches we had visited) and there was, as a result, a lot of rubbish piled up together with a  fair few dead seagulls.
21st - 22nd August Ria de Alden - This Ria was a real surprise as we had intended to go into Ria de Pontevedra but James spotted a little bay on his Navionics app and we re-routed.   We had a very peaceful anchorage and went ashore to enjoy a couple of ciders in a beach-side hut.   Wish we had been around at lunchtime when the BBQ was operational!   We all agreed that this was a much nicer place than Islas Cies.
22nd -23rd August Ria de Vigo and Ensenada de Barra - We had a pit-stop visit to Alden itself in order to re-stock the fridge and buy yet more tomatoes!     Then we were off to Barra beach.    We had a great sail with both Edward and Verity honing their skills at the helm.    Mind you, we did get Humphrey out of his bed for a while as we ate lunch.     On arrival at Barra we dropped our anchor as close to shore as we dared ..... it was another lovely anchorage here with no other boats in the near vicinity.  We all swam and Claire even went for a run!   We used the BBQ for the first time since setting off from Portishead!   What we ate was a bit of a surprise - Claire thought she'd bought beef ..... turned out to be rose veal!   Honestly the meat was as dark as any beef you'd get in UK.   It also transpired that the chicken was turkey and it's anybody's guess what the other lump of meat might be .... hopefully something that will be good done in a pressure cooker!
24th August - After a wonderfully lazy day with swimming and sunbathing off Barra beach we reluctantly weighed anchor and sailed back to Vigo so that Edward and Verity could get organised for their trip south and the second half of their holiday.    Verity helmed the whole way with boat speeds up to 7kts in wind gusts of 25kts.
 14th August  - 18th August Coruna to Ria de Vigo
A photo of the culprit! 
And the rest of the tale of our first few days back on Ocean Rainbow.  We left the pontoon at Ares and headed for a sheltered and deserted anchorage at Redes.  We found out fairly soon why it was deserted …. the local boats used the bay as a shortcut back to the harbour!   The traffic did stop after dusk so we did have a lovely peaceful night's sleep.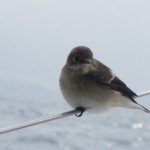 We set off early on Thursday 15th and had a wonderful sail with Red Passion from Redes to Muxia – 49 nm.   Claire made good use of her time off helming duty and mended the parasailor snuffer while James tried to catch that elusive fish.     Sad to say – a fish was snared but not landed!     We had dolphins alongside and we even had a passenger, but only for a short while.   This time, I am pleased to say, we actually managed to stay at Muxia – although we had to lay the anchor three times before it held!  And, the swell meant that we had a really rolly night but the beach was pretty and quiet.
On Friday 16th we set off early again aiming for the Ria de Arosa.  Another great sail, with Red Passion flying as we rounded Cape Finisterre.   We were almost able to fly Red Passion all the way to Rebeiro but as the afternoon winds were starting to build we decided to put Red Passion back in her bag!  James had a real task (rope burnt finger despite wearing gloves – Ouch!)  but all was well and we approached the entrance to the Ria with a rather more conservative sail plan.    We chose the middle passage and were somewhat thrown by the absence of a port marker at the outer edges of the rocks.  We stuck close to the starboard marker, held our breath and edged our way through.  Sadly the photos don't do justice to the entrance but it's not a passage we would have attempted in the dark.    Anyway, that was the end of the nerves as the rest of the Ria was wide open.  In fact we were treated to a spectacle that could rival Cowes with hundreds of yachts racing around a moored cargo ship, spinnakers popping and crews lined up on the rails.   When we finally anchored just outside Rebeiro marina we were treated to the comedy of a whole pile of youngsters in their dinghies totally out of control in the strong winds with their instructors chasing after them in the rescue boats.  Peels of laughter and wide smiles signalled their enjoyment.  Then followed our routine exercise of unpacking, blowing up and launching Puddle so that we could go ashore and stock up Ocean Rainbow ready for visitors.   Quite the most convenient Gadis supermarket (we walked!) and the largest we have come across on our travels so far.   We then returned to Ocean Rainbow for a quiet night at anchor.
Saturday 17th we woke to flat calm sparkling seas so we had a late start leaving Ria de Arosa for Ria de Vigo.
When we eventually set off we motored for a couple of hours but then we managed to find some wind and drifted nicely towards Ensenada da Barra.   We dropped an anchor and spent a re
ally relaxed afternoon which would go unremarked had it not been for the FIRST CATCH OF THE TRIP!  Sadly we weren't sure if the catch was edible so James threw it back in …. Only to catch another one!   Elliot – if you read this …. Help!!  Have we missed our first opportunity of free food?
Sunday 18th was another leisurely start until Claire decided to go for a swim.  The water was icy so James did nothing more than a mad dash around the boat and quite missed the fact that Claire had decided to swim ashore.   There was a real panic on board when James realised the 'chief cook and bottle washer' was missing.   He leapt in the dinghy and set off to look for a drowning body.   Imagine Claire's surprise to find her 'knight in shining armour' heading towards her at top speed!   I guess the moral of the story is that Claire should make more splashes when swimming!   After that we headed ashore and went for a run!   Honestly!   The rest of the day was very gentle including the departure from the beach and the trip to Vigo to collect Edward and Verity.   Absolutely great to see them and really looking forward to showing them this beautiful part of Spain.