18 October 2010 - 29 March 2011 : Refurbishing Ocean Rainbow Part One
Winter 2010-11 saw some major upgrades. We added an electric windlass - Claire said she would never manage to pull in all the chain manually so a Lofrans Tigres was fitted.  We also added a couple of self tailing winches on the mast and one on the coach roof.    Humphrey Hydrovane joined as a permanent crew member and throughout the year we learnt the finer art of using this outstanding self-steering system.  The Hydrovane was brand new & came with the boat but had never been fitted.
The Galley when we bought Ocean Rainbow:
Turned into this: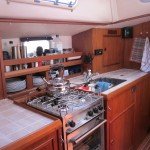 The galley was refurbished, with extra cupboards, shelves and plate racks and, in Claire's 'humble' opinion her totally inspirational idea of a 'tray hidey-hole' was also included.
 This space also serves to house chopping boards and cake racks and uses up that little bit of wasted space that normally lurks at the back of the cooker.    All thanks to the skills of Rich and Ray at Ray Williams Marine Services in Portishead.
Below is the cavity that was 'dug out' to make space for the 'fridge big enough to cope with an Atlantic crossing.  Contrary to our first understanding, the fridge is not keel cooled.  Although less efficient in UK waters by the time we arrived in the Caribbean we were rather grateful and actually living on board out on the hard we were extremely grateful as it meant we still had a fridge!   We don't have a freezer though which means if you want ice with your gin we're afraid you will have to bring your own ... ice that is .... gin there'll be a-plenty!!
| | | | |
| --- | --- | --- | --- |
| | The elderly cooker was replaced with a Levante cooker from GN Espace (speak to Julian if you'd like to know more about the cooker!) This required alterations to the dimensions for the cooker space - all beautifully done by Rich and Ray which enabled the inclusion of the 'tray hidey-hole'. | | The final addition to the galley was the double sink which replaced the stylish but slightly impractical 'water hungry' round sink. Thanks to Aiden at Munster Simms a salt water tap was also fitted.! |
Finally the new worksurface was fitted.    The tiles look fantastic but only time will tell whether they were a good idea or not!   The mess during all the refurbishment was amazing and it was hard to believe that the boat would ever look pristine again.
However, this was achieved and the galley is now fully functional in even the most challenging of conditions.