Ocean Rainbow's Summer holiday in France via the Helford River, Guernsey and Jersey25th August - 10th September 840 nm
25th Aug Arrive Barry to sit out the tide
26th Aug Set off for Helford River early in the morning.
27th Aug Arrive at Helford River and escorted to our mooring by Paul Dickens in his RIB and Piers Rendell  under sail in a friend's yacht
28th Aug Party time at Merthen Quay for 60th birthday BBQ. Miles and Celia Joyner come on board in the evening for drinks.
29th Aug Set off at 0400 for Channel Islands
30th Aug Arrive Guernsey - St Peter Port.  Claire's first Channel crossing!   It all went remarkably smoothly and only a couple of times, on the French side, did we have concerns about approaching ships.  We only waited a very short while before we entered and moored up.
We explored the town on bikes before welcoming the Walkers on board for drinks.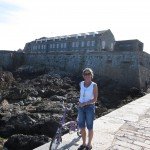 31st Aug Arrive Jersey - St Helier to be met by Adrian Demaid and taken to see Ywawr in her new home and then on to supper with Jo in their home.
1st Sept Eve and Mike Wilkinson treat us to a tour of Jersey and take us home with them for lunch.  So far not a lot of cooking on board!
Drinks on board.  A great way to end our brief visit to Jersey.
2nd Sept Set off for Paimpol, France.   Beautiful sail across but arrived too late to make the  lock into Paimpol so spent a blissful day at anchor waiting for the tide to turn!   Made a fruit cake and french flan as well.
3rd Sept Took out the bikes and explored.
4th Sept Gale warnings creeping up on us so decided to head for Trebeurden.   Interesting entry to the  harbour in the dark and very unusual mooring technique but all well.
5th Sept Rugged up in Trebeurden as the storm passed through.
6th Sept Set off at 0600 for Penzance.
8th Sept Arrived Penzance but decided against staying and went across to Newlyn instead!   Arrived Newlyn 0615.   More bad weather forecast so set off at 1645 for Barry.
9th Sept Anchored off Lynemouth to wait for the tide to turn.
10th Sept Continued to Barry, heavily reefed but very comfy.  Wind very variable, 28kts one minute then nothing!   Arrived Barry Pilot buoy at 0315.   1300 dropped off and headed up to Portishead.   Locked in at 1615.
Ocean Rainbow safe home again after 840 nm.
Ocean Rainbow goes back to Oxwich Bay
29th July - 1st August
Bright Flyer arrive by canoe to join us for lunch.
Ocean Rainbow raises money for The Jessie May Trust
15th July 2011
Five lawyers from Wards Solicitors came out on Ocean Rainbow for a tour of the Avonmouth Riviera.  The weather was foul but there was no stopping the ladies who had won their prize trip at a charity auction.
Ocean Rainbow's f irst visit to St Pierre
2nd - 3rd July 2011
A beautiful day's sail up the Channel and tranquil overnight stop.
Ocean Rainbow's first visit to Lydney
17th - 19th June 2011
We had intended to sail to Milford Haven but a furlex malfunction caused a delay in our departure so we changed our plans and headed up Channel and had a real challenge!   What an exciting little entrance to this harbour but what a fun weekend when we got there - the hospitality of the Yacht Club was excellent and the experience of getting into Lydney will stand us in good stead in the Pacific as we try and make our way amongst the reefs!
Ocean Rainbow's first visit to Newport
14th May - 15th May 2011
Ian Chapman joined us as crew for this little adventure!  What an amazing place in what can only be described as Mad Max country!   Newport Yacht club were very hospitable  and made us extremely welcome.  Although we had to leave at 0455 on Sunday it was well worth the dawn start.
Ocean Rainbow's first visit to Watchett
We celebrated the Royal Wedding in Cardiff Bay with the Macdonalds from 'Marjorie' and then moved on to Oxwich Bay and from there across to Watchett.