December in the Caribbean is going to be very different.   There is something really incongruous about a Christmas tree in the blazing heat.  Claire is normally a sucker for Christmas tree decorations but somehow a santa with his reindeer in this heat has not tempted her to part with any of her housekeeping money!   However, we intend to maintain traditions and our tree will soon be going up, the Christmas cake will be made - a bit late, perhaps, but we don't want the glace cherries to start going mouldy before Christmas Day!  The mincemeat is looking good so a few mince pies will be ready to celebrate our wedding anniversary (and St Niklaus) … together with the inevitable rum punch!
Monday 1st we hoped to get our autopilot returned and then we planned to head south for Carriacou having refuelled and topped up the water tanks.   Not such a successful day, refuelling went OK but the topping up of the water tanks turned into a pile of pooh!   Claire managed to overfill the tanks to such an extent they were bursting at the seams and the excess water was filling the bilges.   At one point we were seriously worried we would burst the tanks and it took all James' strength to open the forward tank to release the pressure – and, of course, more water emptied out into the lockers surrounding the tank!   What a lot of work mopping everything up - all we needed was about 80 litres and we actually took 150 litres on board and not all of it channelled into the bilges!   Ah well, we have a very clean boat if nothing else.   Added to this DigiNav (Jean-Phillipe) brought back the repaired autopilot computer but the original fault still remained.  This time the control panel was taken ashore and we were promised it back on Tuesday.   Undeterred we hosted sundowners  on OR for Pete and Kathy from Arawak.  So lovely to see them again and to catch up.  We will see them again in the New Year when we return to Sainte Anne.   David (Serendipity) also came on board for a morale boosting drink after his 5 day stay in hospital.   His plans have been shot to pieces and he is now on yet another revision!   Sailing plans are always just that – plans – as nothing ever seems to survive 'first contact' (to coin a military phrase!).   We had sundowners with David on Tuesday night and then on Wednesday (minus our autopilot, still not fixed) we headed down to Carriacou.
We did actually spy the cousins en route but agreed to meet up later in the week when we had more time to spend with them.   A wonderful overnight sail with brilliant moon and stars.   Pods of dolphins joined us in the Martinique/St Lucia acceleration zone – more a 'deceleration zone' for this crossing! – and we had wonderful winds when we crossed from St Vincent to Bequia romping along between 6 and 7 knots.  We did have 3 hours with the engine running which was a shame but all in all a great trip.
It was fabulous to meet up with Freebooter (Annemarie and Steve) and Ishtar (Elwyn and Mo) if only for one night!  We delivered the deep fat fryer to Kevin in the newly opened Iguana restaurant – long story made short:  Pete on Arawak had undertaken to buy the fryer in Martinique and get it taken to Carriacou … we were the delivery boys!  Anyway, to more important matters, we had a great evening on Thursday, sundowners on Ocean Rainbow and supper on Freebooter.   The rum punches were just as good as last season and Annemarie's skills in the galley (helped by Steve apparently!) were delicious and much appreciated by us all.   We repaired home to Ocean Rainbow after a wonderful evening.
Friday morning we checked out of Carriacou and headed for Union Island so that we were in a good position to meet with the cousins (Rodney and Penny).   We had a wonderful sail and we are now at anchor in Ashton Bay marvelling in the peace and tranquillity  – enhanced by the presence of a young turtle swimming around the boat.   We like Union Island.  The folk in Ashton are so welcoming and in Clifton – where Claire stocked up with fruit and veg, Trini actually rememberd the name of our yacht!  How's that for service!   A lovely place to celebrate our 39th wedding anniversary.
And for the foodies - we had lunch in the Big Citi which was excellent, Lambi Creole and Jerk Chicken Special.  Lambi (conch) is really laborious to prepare.  Not only is it really difficult to get out of the shell it also requires a lot of cleaning and then a lot of pressure cooking and then, finally, you get to add it to a sauce.   If you go through the whole process it is delicious but take any short cuts and you might just as well  be eating rubber.  We can recommend Big Citi - and the locals like it too!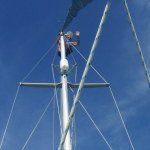 On returning to OR after our lovely lunch we spotted a familiar looking catamaran in the bay – it was 'Sea Prize' with Loic who had seen us as he was passing en route to Clifton and decided to stop off in Ashton instead.   He came on board for a sundowner – lovely to see him and catch up on his travels since we'd seen him in St David's Grenada  … and to practise our French!   James made the most of the calm conditions and 'popped' up the mast again to check the forestay rigging (we'd had an email from Bill Morton so highlight a problem he had had with his Warrior 40) - we're pleased to report that all is well.   We were treated to the most spectacular moon that night, it was so bright and the water was so clear and still that you could actually see our anchor chain stretching out along the sea bed.   A good night for a midnight swim!
7th – 10th December
Another Sunday in Ashton and a lovely welcome from the local church.  Lots of singing and good old fashioned 'choruses' – reminded us of Sunday School and luckily we also remembered the words!  Then a lovely leisurely 'brunch' before we weighed anchor and headed for Tobago Cays to await the arrival of 'the cousins' – aka Rodney and Penny.    We received a text to say that they would be with us on Monday afternoon and not Sunday so, in true OR fashion, we accepted an invitation to sundowners on 'Sea Prize' – Loic had arrived earlier in the day and was anchored ahead of us.  His catamaran is huge with so much room  - a very different style of sailing!
On Monday morning we went off snorkelling with turtles and then went iguana spotting.  As if that wasn't enough … we then went out to the reef and snorkelled on the reef in such close proximity with the fish we felt we could reach out and touch them.  The colours were magnificent with a variety of sponges and corals – we think this is the best snorkelling we have had in the Caribbean so far.  Fabulous.    After all this activity we went into 'snooze mode' and failed to spot the cousins arriving in 'stealth mode'!   We finally made contact at 4ish and agreed to meet on OR for sundowners before going back to Merlyn III for supper.   What a wonderful evening and if we were ever going to contemplate swapping Ocean Rainbow (as if!!) a Discovery 55 would be our choice (and not just because of the electric loos!).
Tuesday morning we dinghied across to MIII and collected Tessa to ferry her in style to Baradal.  The rest of MIII's crew arrived at the island in their own inimitable fashion  – a 9.9hp engine and proper RIB – but they still needed Merlyn's James (MkII) for the final phase!  (See photo below.)   We had a lovely time walking around the island and spotting iguanas.  What magnificent creatures they are and what wonderful disguises they produce.  We also saw two tortoises but failed to capture them on the camera – they moved too fast!   We then returned to the dinghy and went out to the mooring buoy in the middle of the reef, tied up the dinghies and went for a snorkel.   So lovely to see a ray again – amazing creatures with their Darth Vadar eyes and long whip-like tails.   All too soon we were reduced to wrinkled prune status and had to return to the boats to warm up.   After a cup of coffee and banana bread on MIII we said our farewells leaving the crew of Merlyn III (Skipper Christopher and Claire, Tessa and James and Rodney and Penny) to enjoy the last days of their holiday together.
We then prepared OR for our sail back to Ashton Bay.   What a wonderful sail it was too.  With only the yankee we romped along - at times doing 6 knots.   There was quite a swell in the Mayreau Channel so we were glad we had stowed the boat properly and tied the dinghy down on the deck!   On arrival back in Ashton Bay we found a few more yachts at anchor so it is no longer the empty paradise of last week but we are anchored away from the majority and it is good to be able to see the sun setting over the sea again.   The winds are up (25knots blowing through) but there's very little swell in the bay so we are not too rolly.   Our anchor is firm in the sand and we have 35m of chain out (in only 1.5m of water) so we aren't going anywhere.   We went into Clifton early on Wednesday and were in time to see Merlyn III taking a mooring buoy in the bay.   Only Rodney and Christopher came ashore but it was good to have a bit of a chat and wave them off as they headed south.   The next excitement for us will be the arrival of Freebooter from Carriacou.
Well we didn't have to wait long!  As we returned to the dinghy pontoon after the trip into Clifton so 'Peanuts' (Freebooter's tender) turned up, a quick exchange of greetings, a time set for sundowners and supper on Ocean Rainbow and then they were off to clear customs.   It's good to see them and we had a lovely evening.
11th – 15th December
Thursday we were very industrious and repaired the headlining in the saloon.  If only we had realised it was going to be such a straightforward job we would have done it two years' ago!   Although we haven't managed to remove all the glue 'mistakes' of previous attempts we think we've done a pretty impressive job!   Spurred on by such success we have also sourced the leak in the bunk room to the port light and (thanks to Steve's donation of black UV sikoflex) we have sealed the outside – using cocktail sticks to ensure a fine bead and no nasty black sticky stuff spread around! - hopefully that will do the trick.   We have also repaired the cockpit speakers and now we really do have music in stereo having finally fitted the 'new' speaker we bought at the Beaulieu Jumble a couple of years ago!!   Our final success this week has been to repair one of the stanchion's on the starboard side.   Once again we are indebted to Steve for his powerful drill and appropriate drill bits, his time and his knowledge.   The stanchion is now back to full strength, we have cleared all the swarf and we don't appear to have any rusty spots on the deck from fly-away filings.
All this hard work has to have its rewards!  We have been partying too.   Thursday night we were on board Freebooter for supper, then Ishtar turned up in the anchorage on Friday night and came on board for sundowners bringing their guests, Chris and Lindsay.   Saturday night we had a beach BBQ on 'Lonely Palm Beach'!  James went into boy scout mode while Claire went into Clifton to clear out all the shops of anything worth eating – ably assisted by Annemarie!   Two girls shopping is a very different experience to the normal expedition – we stopped and chatted to everyone and meandered our way through the town gathering produce as we went.   The final purchases were vegetable rotis from the Yum Yum Bakery to take back for lunch – totally delicious!   In the meantime James had cleared the island of debris (taking it all into Ashton for disposal), gathered kindling and firewood, made up a fire pit and set up the 'picnic' site.   The BBQ was great fun (although Steve was off colour and didn't manage to get ashore which was a shame).   With the help of Ishtar's rum punch we had a very successful evening but were somewhat disappointed not to spot the much publicised meteor shower – a distinct non-event.   However we did have the chance to watch hermit crabs foraging for food.   We had no idea they could smell meat so efficiently.   Barely had an empty meat container been put on the ground than there was a crab making its way inside!  We all managed to get home in one piece with no wet shorts or trousers.  Something, we later found, we should have celebrated rather than accept it as the norm!
On Sunday, Freebooter picked us up at 9.20 and we went to church.   This time it was a communion service as the priest had made the trip over from Canouan.   As soon as we returned to our boats we weighed anchor and headed off to Chatham Bay (on the West coast of Union Island just up from Ashton Bay and Frigate Island) to introduce Freebooter to one of our favourite places.   James was really delighted to be back and wasn't slow to try one of Bollhead's rum punches – with added 'sunrise'!   (Sunrise is the brand name of a ridiculously high proof rum).   We had thought that Freebooter were going to be joining us but something went wrong in the communications so we returned to find them still patiently waiting for us to swing past them to go ashore.   Not wishing to disappoint them we loaded them into Puddle and turned back for the shore.   A round of rum punches later supper on OR beckoned and that's when we discovered that perhaps one rum punch is ample sufficiency.    James, being the chivalrous skipper he is, was last to jump into the dinghy and had a slight miscalculation … one pair of wet shorts.   We returned to OR and just as we were setting the table for supper the heavens opened and totally soaked James … two pairs of wet shorts.   He donned a dry pair of shorts and then went to lock up Puddle for the night and promptly sat on a soaking wet seat.   Good job James has a fairly large wardrobe on board.  We had a very funny evening with Annemarie and Steve who returned to Freebooter chuckling about Three Shorts Short.   Little did they know, by the end of the evening he was Four Shorts Short – in trying to help Claire with the washing up he offered to rinse out a particularly mucky container with salt water from the bathing platform.  He then pirate-proofed the swimming ladder just as the wind blew the clean container into the sea.  So James, using the bathing ladder to reach the precious container, found that the booby-trap worked brilliantly and gently toppled (fully clothed) into the water!    It was now a 4Shorts evening!
We have had some lovely snorkelling although the water has been a little murky.  There are huge starfish, Claire saw a stonefish when she was out with Annemarie and Steve, box fish, rays, trigger fish, pipe fish and then in Chatham Bay shoals and shoals of fish that attract boobies and pelicans.   The booby is a very trusting bird and you can swim almost within touching distance of them.  Pelicans, on the other hand, don't hang around too long when approached!   There's a fascinating world living under our boat, including some transparent tiny jelly fish that seem to swarm in the shade.   Luckily they don't appear to be stinging – at least we haven't suffered.
On Monday afternoon we agreed to explore all the little huts and restaurants along the beach with Annemarie and Steve.   We started at Aqua which used to be the fairly smart boutique hotel at the southern end of the bay – it's abandoned at the moment.  We were told that it is under new management but it isn't expected to be functioning for another couple of months.  With no visible sign of any security, we were amazed to see all the furniture, lights and cushions still intact and not vandalised.  Wouldn't happen in UK and that's for sure!  Next stop was Pleasure's where we had a very gentle rum punch and Pleasure strummed his guitar and sang for us.   We watched his rooster send all the hens into the trees nesting on the outermost edges of the branches away from the possums.  Next stop was Vanessa and Seckie's for some really tasty rum punches.  Then it was Shark Attack's turn…..the candles in their recycled 5ltr water containers created a lovely ambience but the rum punches lacked nutmeg and lime so Mark didn't score very highly for his offerings.  Last but not least we called in at Bollhead where there were two tables of guests enjoying their evening meal.   Tim spoilt us by treating us to complementary banana fritters and a selection of fish and chicken to nibble on, he turned up the music so we could dance and we finished the evening with a fine rendition of YMCA.   We definitely enjoy going to Bollhead!   We then returned to OR where we combined our BBQ food and had another great supper with Freebooter.
On Tuesday 16th, we weighed anchor at 7.30 and sailed across to Petite Martinique with Freebooter to refill our water tanks.   We then set off to Canouan and waved farewell to Freebooter as she  made her way to Tobago Cays.  We had another lovely sail with full main and yankee but we didn't use the staysail as the dinghy was on deck – we will be stowing it for the trip up to St Vincent and then we can sail OR to the best of her ability.  Mind you we were doing 6.5 knots without any trouble, so not sure how much faster we could have gone even with the staysail!  It was a noisy night at Canouan as the shoreside music from southern end of the bay didn't stop all night!  Wednesday morning we left early for St Vincent and had a really lovely sail.  We reefed the main for the whole trip but also reefed the yankee for the crossing between Bequia and St Vincent.   We are now on a buoy in Blue Lagoon.   We're the only occupied yacht on a buoy in the lagoon and there is only one other yacht tied alongside at the marina!   We didn't waste any time in meeting the Skipper and crew of Seraphina of Beaumaris as they are flying the largest welsh flag we have seen on our travels!  It turns out that Clive and Ju hail from Prestatyn and Clive was actually at Prep School with Claire's brother …..  to add to the coincidences, the Manager of TMM (one of the yacht charter companies here) has a son who lives in Abergele where Claire went to school.   We're looking forward to sharing a sundowner with them on their yacht Seraphina of Beaumaris – they have all the 'mod cons' including an espresso machine and ice maker!!
Thursday morning we caught the bus into Kingstown and had a quick exploration.  The smells of a busy town are quite something after the last months in rural environments.   Kingstown reminds us of Fort de France and Castries combined.   Lots of street vendors, noise, crazy traffic, run down buildings and people going in every direction.   We bought some lovely looking tomatoes, aubergines, beans and butternut squash in the market but then the heat got to us and we made our way home via the local prison.  There were so many people coming in and out Claire just had to ask what was happening – apparently at Christmas there are extra visiting hours for families!
Friday we decided to join in with the locals and celebrate Nine Mornings!  This is unique to St Vincent and is the 9 day run up to  Christmas when all the locals get up at 3am in order to be at the start of the 'party' which starts at 4am and runs until 6.30am.   We'd heard there were carols and singing etc but in reality it was more of a variety show.  Still it was an unusual start to Claire's birthday and fun to experience a local tradition first hand.  We thought we might have woken early for no reason at one point as our taxi didn't turn up but luckily a  bus came along 20 minutes later and we were able to squeeze in (18 people in what we would say was a 7 seater bus!).   We then returned to the boat and caught up with our sleep before Claire opened her cards and a lovely present from our batty/wonderful neighbours – Kevin, Jo, Baz and Suzie.   However, they may just have got Claire's age wrong – 60?  I don't think so!!! – but the earrings will be worn nonetheless and enjoyed.   We're  celebrating tonight in Calm Waters Restaurant.  Not so sure what will happen but the management seem to think that they will be open on time!!
20th December
And open they did!  It was an hour later than planned so we had rum punch in the Flowt Bar – hardly a hardship!  The Calm Waters complex is a hotel with restaurant, bar and coffee shop.  The interior design has been done by the old Prime Minister's wife and we think she's made a real success of the job creating a welcoming hotel.   Dinner was superb and we all enjoyed every mouthful.  We think the chef did an excellent job and would thoroughly recommend the place to anyone visiting.    A really memorable birthday for Claire.
Saturday morning we went off to explore Young Island Cut and Fort Duvernette.   Built by the British in 1790s during the second Carib War it was strategically placed to protect shipping from pirates as the precious commodity of loaf sugar was loaded from the port of Calliaqua.    It seems strange now as the port is nothing but a dock used by local fishermen.   Climbing the 255 steps was good exercise and the view from the top was magnificent across to Bequia and along the St Vincent coast Arnos Vale to Rathomill (Blue lagoon).   The rock – a 60m basalt volcanic plug - is crumbling and being eroded by the wind – a few more years and it might not  be around!   After our climb we took to the water and snorkelled.  We saw a lot of lovely fish including the most beautiful flat fish which had taken on all the colours of the coral and rocks amongst which it was swimming.    A fun excursion.  Next time we shall try and find the dinghy pass and take the short cut but this time Claire got a little windy when faced with breaking waves on the reef and called 'chicken' so we went the long way around!
We had intended to stay in Blue Lagoon until Monday but the weather forecast predicted rising winds so we slipped the mooring buoy a day early and headed for Bequia.   A wise decision as Bequia was relatively empty when we arrived and we were able to choose our spot and lay as much anchor chain as we wanted without worrying about other boats swinging onto us.  The anchor stuck firm so when the bolts of wind came through the anchorage, although we were swinging in a large arc, we showed no signs of moving.  By Christmas Eve the anchorage was absolutely choc-a-bloc full of boats reminiscent of the jazz festival in January when we first visited the island.   Our anchorage was very close to the reef off Princess Margaret's Bay so we enjoyed hours of snorkelling.   It's a real boon to have Annemarie in the water with us as she spots fish that we would have just swum over completely oblivious to their presence.   James spotted a huge porcupine fish and Steve found two Octopus heavily involved in their mating routine!   The scenes were worthy of any David Attenborough programme – the female was being courted by a determined chap who had one of his many arms coiled around her neck and was following her wherever she went …. Or was he just simply being 'led by the nose'!  Whatever the case, their union should produce some good looking offspring!
We haven't entertained quite as much as usual as James was struck down by a bout of the lurgy and had to retire to bed for 3 days, only managing to surface for the 'big' occasions.   He still isn't right as we update this page so we are postponing our visit to St Vincent for another month and, instead, we will just make our way up to Marigot Bay when he feels strong enough – but definitely in time for New Year!  However, we did manage to invite Free Spirit (Hallberg Rassey 42) on board for a drink as they were our nearest neighbours and had been kind enough to swing past and introduce themselves.   Alex and John have been cruising for 10 years but the lure of grandchildren is taking them back to Europe for their base rather than the Caribbean!   We're told grandchildren have this effect on one … we shall see!
Christmas Eve we went into the town to see what happened in Bequia.  The lights were lovely but the stage show for the night was aimed at the local small children so we retired to the local 'Pizza Hut' for one of the best pizzas ever (only a mouthful for James but Claire enjoyed herself!).  We then went to St Mary's for the Midnight service.   It was somewhat difficult to follow the service as the sheets we were given bore no resemblance to the actual readings etc!  … but we had lots of hymns/carols which were sung with the normal Caribbean gusto and the sermon was good.   A very long outing for James who suffered somewhat afterwards but he managed it all so he didn't missed out.
Christmas morning festivities were started off by Richard and Suzanna Roxburgh (Mirounga) who called in to check on James' welfare and stopped for coffee and mince pies – great to see them both.   Claire went for a snorkel and then Annemarie and Steve arrived.   We had decided to eat on Freebooter.   Our boats were not as close as would have been ideal but we were near the snorkelling and they had WiFi on board so we had a happy compromise.  We had a little Christmas service with some carols on Ocean Rainbow followed by Buck's Fizz, mince pies and 'nibbles' leaving the turkey cooking merrily on Freebooter.  Steve and Annemarie had managed to find a crown so we had a veritable feast.  Claire splurged on some brussel sprouts (imported from who knows where!), Annemarie found parsnips so we did manage between us to produce everything required for a proper Christmas lunch.
Actually, even if we hadn't got the bulk of the ingredients on board we could, for a small fortune, have purchased everything from Doris.    Doris' shop is like an Aladdin's cave and it is air conditioned which, of course, encourages you to linger!   Claire found horseradish sauce – something that had been missing from the pantry for a number of weeks and is a vital ingredient to the Ocean Rainbow coleslaw.   The price tag wasn't too bad either – could have bought 3 jars in UK for the same money though!   Bequia has a lovely vegetable market run by Rastafarians so we 'spread the love' there and purchased rather more than we really needed but hopefully we will manage to eat it all before it goes bad!    Our actual Christmas meal is being spread over two days as we couldn't manage the Christmas pudding and cheese.   In fact, after our sumptuous turkey we decided to clear the decks a little and the girls went snorkelling, whilst the boys had a kip!   By the time we returned to the boat it was almost dark and time for a slice of Steve's amazing Caribbean Christmas Cake with a cup of tea before we called it a day and headed home.   A wonderful Caribbean Christmas which needed only one other ingredient to make it totally perfect – our families!  Perhaps one year we will all be able to gather in the sun but this year it was wonderful to share the day with Freebooter.
27th -31st December
Boxing Day we had lunch on Ocean Rainbow and enjoyed the traditional cold turkey and salad lunch with Christmas Pudding and brandy butter (couldn't face more cooking and making a rum saunce!!) and then we all went snorkelling.   Another lovely day.   With James still slightly hors de combat with a sore tummy we decided to stay longer in Bequia and postpone our exploration of St Vincent to give him time to recover.   A good plan as this also meant that Claire was able to have her first diving lesson from Steve who is a dive instructor – yet another of his many talents!   It wasn't an ideal day with a big swell coming in to the beach and lots of sand churned up making visibility difficult.  Still the basics were accomplished and Claire spent time underwater without panicking and relaxing enough to enjoy the sights – such as they were.  It was so kind of Annemarie and Steve to lend their equipment and to spend the time teaching a total beginner.
On Sunday, with James fit at last we set sail for St Lucia and Marigot Bay.   We left at 10am and had a wonderful sail with only a couple of occasions when we used the engine (caught in wind shadows).  The trip was 93nm although in a straight line it is only 60 so we did put in a few tacks on the way!   The best tack was the last one when 8 nm out from Marigot Bay James tacked and we arrived in the entrance of the bay …. Good call!   We had winds up to 35 knots on occasions but we had the right sail set so we just 'cruised' on through.    We are now anchored at the entrance to the bay with no yachts behind us and magnificent views including the most wonderful 'green flash' sunsets.     The only damper has been Claire's eye problem which required a visit to the Eye Clinic in Castries.   However it is on the mend and no infection would dare to invade with all the medication she has been given!   And, the patch is off too so that's great!  The plus of the bus trip to Castries was a trip through the banana plantations and in Castries itself the chance to visit the Cathedral of the Immaculate Conception – the wooden ceilings were amazing and have to be seen to appreciate the workmanship.   A photo really doesn't do it justice.
Now we are ready to celebrate the end of another year and the start of 2015 – the year in which we become grandparents!   A whole new way of life we have been told!