A month away and so much seems to have happened!   Since Honfleur we've travelled 236nm under engine alone - 32 hours at a fuel consumption of 1.8 litres an hour.  We're hoping for a slightly more tranquil time as we bimble down the canals towards Marseille.    Meaux has certainly started the new month well with a wonderful organ and cello recital in the Cathedral of St Etienne de Meaux.  Domenico Severin, Head Organist of the Cathedral gave a virtuoso performance (in our opinion) as did Philippe Muller, Professor at Manhattan School of New York on the cello.  A series of recitals are being held in the Cathedral to commemorate the end of the First World War and to celebrate the restoration of the Great Organ, we were so lucky to be able to attend one of them.   Wonderful acoustics.
The market was really vibrant with lots of fruit, veg, cheeses and meats.   The jazz performance was another 'one off' occasion which we were lucky enough to enjoy.    And then there was our mooring on the town quay which was totally free of charge, including electricity and water!     There's a lovely nature park along the Marne with a beach where we cycled on Monday.  That evening we found a lovely restuaurant for dinner.  On Tuesday we went to the Chantier to have an engineer look at Victor - and pronounce him fit for the trip to Marseille, despite a little 'ticking' noise so we departed for the next leg of our journey.
Tuesday 3rd July - Sunday 8th July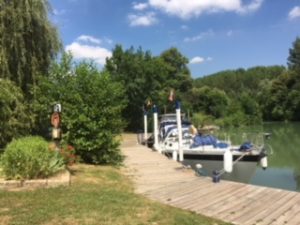 Not a very onerous day!   After leaving the Chantier Naval we gently motored to Poincy, all of 4nm!  Almost put off by the narrow entrance we edged our way into the most lovely inlet with a tiny harbour.   A real surprise and even more surprising was the quality of the WiFi.  A chance to update and catch up on banking admin!    We also took our bikes for an exploration.   Poincy is very small with just a little tabac/bar/restaurant which also sells bread in the morning and a tiny little church.   The Moulin de Poincy restaurant which once boasted a Michelin star has now become a party venue by appointment.   However the Cercle Nautique de Poincy is a great place to chill out.
 Wednesday it was off again, this time 8nm to Iles des Meldeuses (just up from the lock) where we moored alongside a recently mown bank and spent a night in isolated splendour.   A tour of the area on our bikes revealed an ancient water wheel that could only be visited by appointment, (shame as it apparently has one of the largest spans - 10m - in Europe), a church that was locked up, a tabac/bar that was very firmly closed and a little village shop where we bought some of the most delicious croissants yet.     
So to Thursday and another leisurely motor down the Marne river.   The scenery is just stunning.   Trees sweeping down to the water, herons along the banks, kingfishers flashing past in a blur of turquoise brilliance and dragonflies and butterflies darting around the cockpit.    We passed under the first of Eugene Freyssinet's pre-stressed concrete bridges, designed and built in 1946.   We also passed under some more conventional ones which, we reckon, look far more attractive.
We collected our remote controller for the automatic locks as we passed through Ecluse St Jean.   Everything we've read says that it's a great system but our vivid imaginations have been on overtime wondering if we're the idiots who could mess it all up!   
Our lock management is vastly improved since the Seine and now that the bollards are closer - we seem to be doing much better.  In fact, frantically touching wood, we might even go so far as to say we've cracked them!!   After 11nm we moored on a public pontoon in a tucked away little inlet at Ferte sous Jouarre.    Out came the trusty bikes and off we went to see what the town could offer.  Built on the site of an ancient fortress, we had expected lots of things to explore but, apart from the houses built on the remnants of the ramparts, there was very little left.   It's a nice town though with all the shops you could possibly need.   The Gothic church was totally enclosed by houses but the Mairie made a pretty picture.     We enjoyed staying there and the market on Friday morning was wonderful with all sorts of cheeses, mushrooms, meats, fruit and veg .... and did I mention flowers?   Indeed, we now have a little pot of lavender to add to our 'garden'.   OR is now a real canal boat!!
So on we go, Fri 6th - all of 12nm!    This time to another tranquil mooring on a grassy verge at Charly sur Marne which is just up from our third lock of the day (the automatic controller is working a treat!).  We're a short bike ride away from the town but only a few hundred metres from an enormous Super U with fuel - not that we need anything but always good info for anyone wanting to follow in our tracks!!   The town itself is getting ready for a 'fiesta' this weekend so dodgems and amusement stands line the main street.   The church was open so we popped our heads inside and then off we went on the Route de Champagne, passing kilometres of vines and champagne houses (no names we recognised) in search of a chateau in Villiers St Denis.  When we got there and asked the locals where we'd find the chateau, they looked blank ...... turns out the chateau in our outdated guide book has now become a hospital!!   Still it was good to get out and about on the bikes.
Next stop was Chateau Thierry just 8nm away.   Another lovely trip and one lock successfully cleared despite the turbulence that causes the boat to surge forward even though the water is pouring in towards you!    Our fenders were beautifully positioned!    We moored on the very edge of a pontoon near the centre of the town and took to our bikes.    The Hotel de Ville is a magnificent building with pretty square and narrow streets leading off it but the rest of the town, although pretty with all its flowers, is slightly faded glory.  The exterior of Church of St Cretin, dating from Xlll, is very eroded but inside it is peaceful with some lovely modern stained glass windows.    There is very little of the walled city to be seen but it was lovely cycling around everywhere.  
On Sunday morning, while it was still relatively cool, we decided to make the 6km uphill trip to the American Aisne Marne Memorial.    Well worth the effort of getting there (via James' famed shortcut - see blog) and the ride home was effortless.  The memorial itself, designed by Paul Cret and dedicated in 1937, commands an impressive view of the Marne Valley.  It's a simple, yet imposing, monument.    A part of the memorial is a compass rose which, if you stand in the middle, points out the significant battle sites.   A very sobering experience.
Monday 9th July - Sunday 15th July
So to Monday and another destination but, before we cast off our lines, we took one final bike ride to see the 'caves' of the champagne house of Pannier, the largest champagne producer in the western Marne valley.    Our luck was in.   Although the official tours were at 11am and 2pm we were given a private 'short' tour!    The caves, hewn out over a period of years from the 12th Century, provided stone for churches and fortifications.   During the World Wars they were used as places of safety and now they are used to store 4 million bottles of champagne at 11 degrees C!   Three types of grape are used for champagne - Pinot noir, Pinot meunier and Chardonnay and the quantity and quality of the grapes used in the champagne determines the label on the bottle - Grand Cru, Premier Cru etc (vintage champagnes with the wine made from grapes from the same year and matured for at least 5 years) to bottom of the range and matured for only 2 - 3 years and made from a blend of wines from different years.  All fascinating and enhanced our wine tasting at 10 am!!!   It's never too early for champagne!
So off we chugged to Dormans (8nm) where we had some surprises.   The biggest surprise was the size of the Marne Memorial.     We'd expected an obelisk or something along those lines, instead we found the most amazing monument dedicated to all the French who lost their lives in the 1914-1918 war.    With a tower 52m high, a crypt at ground level, chapel on the first floor level and a cloister leading to an ossuary, the building is magnificent.     Designed by Marcel and Closson the building works were completed over a 10 year period (1921 - 1931) on ground that had been chosen by General Foch.
We spent 4 nights at Dormans as we'd arranged to pick up our guests there.   The time was not wasted.   Laundry, cleaning, water, repairs, sightseeing, a brilliant trip to a winery and shopping filled our days very successfully.   We had no trouble sleeping despite the fact that we were just opposite the railway line which was quiet during the day and then came alive at night as all the freight trains ran through!   Add to that the nutty bells of the local church which made one noise or another every quarter we did have some misgivings about staying for 4 nights!    
The second wonderful surprise was meeting up with Milena and Patrick Bauchet whom we met on the Suzie Too Rally two years ago.    Milena got in touch via FB to say that they were in Champagne country and not the South of France where they normally live and she invited us to see the family winery, run by Patrick's son, Vincent, at Le Mesnil sur Oger.   What a real treat.   Milena drove us from Dormans to Azize through countryside totally devoted to vines.    She explained all the processes fully, took us along Champagne Avenue in Epernay, explained the rules and regulations surrounding champagne so we were able to sort out all the information we'd been given at Champagne Pannier and we were able to see all the equipment used when we visited the Pertois-Moriset Champagne House run by Vincent and belonging to his wife's family and where he also presses the chardonnay grapes from his own family vineyards.   A decade ago his father sold up his Champagne House, Lang Biemont, and went sailing (which is how we met!) but he kept the vineyards of Chardonnay grapes which are now sold to Moët et Chandon.    A very spoiling afternoon indeed.
We had a very social time with Hans and Marijke Jorge from the Dutch barge Frejke.    What a luxurious style of life on a barge.   We went on board for 'Kafe und Kuchen' and had a full tour of their beautiful floating home.   They even had a mahogany writing desk in their huge bedroom.     We invited them for sundowners on Ocean Rainbow to show them how the other half live!!  We are heading in the same direction so maybe we'll meet up again.
And so to our guests, Adrian and Dorothy who arrived by car bringing all the things we'd failed to buy in England before we left, including a kettle and a new RAC burgee!    After a drive down to Epernay to show them Champagne Avenue, a trip to LeClerc to top up the wine cellar and choose some nice cheese and meats and a visit to the Marne Memorial we were all set for an early start on Friday.     Not too early mind as the locks don't open until 8am!
It was a busy little trip as we went through 4 locks before we stopped on a canal bank for the night.    Except it wasn't for the night as, on our afternoon bike ride, we discovered a rather nicer looking place to stop just one lock further along the canal.   Our trip was 15.5nm so a 'long' day!!
All the locks close for Bastille Day so wherever we decided to stop on Friday night was where we would still be on Sunday morning.  
The Haulte Nautique at Mareuil sur Ay was a very pleasant place to stay, although the restricted opening hours of the facilities (6pm-8pm) was a trifle odd!    Wonderful croissants, baguettes and a peaceful part of the river with swans, moorhens, no trains and no busy road viewed made this a lovely stop.   We attended the Bastille Day commemoration at the war memorial (swelling the numbers by 20%!) and then wandered down to the town bandstand to checkout the BBQ arranged by the Mairie.   It was a very colourful affair but not so big that we could have mingled incognito so we decided to have a light lunch on the boat and keep our BBQ for the evening.   Very glad we did as, much as we love music, Mareuil sur Ay's karaoke session, which started mid-afternoon, left a lot to be desired!!!   We did catch a glimpse of La Patrouille France and a lot of bi-planes flew over so we had a good Bastille Day.
On Sunday, after the rain, thunder and lightening had passed over, we set off once more towards Chalons sur Champagne.   Four locks and one swing bridge later we moored alongside the canal in the middle of the countryside.    A total of 9.2nm.
Monday 16th - Tuesday 24th July
We arrived in Chalons by coffee break and tied up on a finger pontoon at the Relais Nautique - definitely one of the best so far - just a stone's throw from St Etienne Cathedral with its 12th Century stained glass rose window and magnificent organ chest.     L'Eglise de Notre Dame en Vaux is part of the UNESCO World Heritage and was a place of pilgrimage In the 12th Century.
We had plenty of time to wander around the town and get a feel for it before enjoying a lovely last lunch with Adrian and Dorothy at L'Annexe.      Later in the afternoon we went and had further investigations and saw a very odd sight ... a mini version of the Arc de Triomphe!
And so our travels continue through beautiful changing countryside.    Trees, flowers and birds interspersed with bridges and locks occupy our days.    We found a peaceful place to stay at Pogny, then set off for Vitry Le Francois only to find the entrance to the Halte Nautique blocked by a barge.  We weren't too enamoured with the place anyway as the canal was full of weed so we carried on, hoping that the weed in the Canal entre Champagne et Burgundy (formerly known as the Canal du Marne a la Saone) wasn't going to prove a problem for Victor Volvo's water filter.
Next stop was St Dizier where we had a great display from the French Eurofighters but nothing else to recommend it so we only had a lunch break and then moved on to Chamouilley which was a much more sympathetic mooring.   So each day continues with more locks, lifting bridges, canal bridges over rivers and beautiful countryside.   We stopped a night at Joinville where the town prides itself on its floral displays.   We spent a lovely night moored alongside at Froncles which didn't promise much as it's heyday was in the metallurgical era of the 18th and 19th centuries with all the old buildings in ruins but a bike ride to the next village of Vignory was  different matter.   We found ourselves enjoying a village 'treasures of the attic' and a visit to a very beautiful and ancient church with a Carolingian knave.
Our next night was spent at Chaumont at a very ordinary mooring but worth it just to see the beautiful Tree of Jesse (1530 - 1540) in the Basilica of St John The Baptist and the extraordinary railway viaduct built in 15 months and opened in April 1987.
And so to an idyllic little mooring with no facilities but bags of character just on the edge of Foulain.   We hadn't exactly had a hard day either as all the locks, bar one, were operated by a young University student on her holiday job!!   She duly took our lines and hand turned the lock gates.  What bliss!   No struggling to reach a bollard placed 4 metres high and totally out of line of sight from the bottom of the lock!!   That'll happen again tomorrow, but in the meantime we're enjoying the French countryside.
Wednesday 25th July - 31st July
Well, we'd intended to stop in Rolampont after 6 locks but after mooring alongside and checking the facilities (very poor considering our experiences so far) we decided to have lunch and move off to a more rural site.   This we certainly found at Humes, where we moored a deserted Halte Nautique with no facilities other than a fresh water tap which we duly used as our personal shower!   Fabulous cold water and masses of it to make hair washing a pleasure.   Nothing in the way of history to explore so we just cycled around the lanes, found a boulangerie, had an ice cream and retired to our little spot of paradise.   
The next morning we set off early so that we would arrive in good time to explore the Gallo-Roman Citadel of Langres, which is a walled city.   We moored at the Halte Nautique in the bottom of the valley and then had the challenge of cycling to the town at the top of the hill.   First, we did our chores.  James cycled halfway up the hill on his recce, back again to collect me and the laundry and a fuel can.  We both cycled up.  James then returned with the fuel and came back to help me with the shopping and the laundry.   Lunch and a kip were all we could manage after that but at 2pm, duly refreshed, we got back on our bikes and cycled all the way to the top.   We could have taken a taxi but then we'd have had to walk miles around the City and miss the pleasure of free wheeling all the way home!!!   We cycled the whole length of the ramparts then visited St Memmes Cathedral, built in 1150 and finished at the end of the century.  It's current facade was rebuilt  in 1768 but the original Chapel of St Croix remains with its ornate ceiling with 66 'caissons', Italianate mosaic glazed floor and a marble statue of the Virgin and child by the sculptor Evrard d'Orleans in 1341.  Then a tour of the City where we saw the statute of Denis Diderot, founder of the original 25 volume encyclopaedia (his life's work), cycled along little alleyways and visited the Renaissance House which is being restored to its former glory.   An amazing city and well worth the energy expended!!
So on to the highlight of the Canal entre Champagne et Burgundy - the Balesmes tunnel.   This tunnel is at the very top of canal and once traversed we would be starting the downhill trip.  No more heavy lines to pull, just the gentle dropping of the water in the locks as we adjust the length.  Whoopee!!!   
We left before 8am to ensure we would be able to enter the tunnel first.  It's not quite the same feeling to follow another boat into a tunnel as we discovered when leaving Paris.   Two locks down and we had to wait over an hour for a barge to finish coming through the tunnel from the d'Heuilley Cotton side.   It was quite a challenge to find a part of the canal where we could squidge in to let the barge pass and still stay afloat ourselves.    Once negotiated we were able to move towards the start of the restricted movement area.  A green light signalled that we could enter the walled section of the tunnel.  After 3km we saw the mouth of the tunnel and we made steady progress through until around the halfway mark a light failed, then the green central lIghts failed, then the white lights on the side by the towpath failed and we were in darkness except for the emergency telephone signs!   We had our torches all ready in the doghouse so it was just a matter of Claire taking up a position at the pulpit, out of James' line of sight, and shining the torch along the railings on the side and calling out as and when the boat drifted to starboard or port.   It was all a little surreal and made the trip even more memorable than it might have been!    
Once out of the tunnel we had intended to stop and spend the night moored alongside at Heuilley Cotton.  No chance, it was far too shallow and there was a ridiculous amount of weed around too.  So on we went to our first downstream lock.   It's an interesting sensation to be driving the boat to the edge of an 'infinity' pool!!  But what a difference for the line handling.  So easy ... once you've got the line on the bollard in the first place that is .... a little more practice needed there but plenty of opportunity as there are 41 locks down until we reach the next canal junction.
Finding somewhere to stop is proving a challenge as the sides of the canal have become very silted up over the years and we are running into the mud before we can jump onto the bank to secure our lines.   Twice James has used Herculean strength to push us off the bank using the stay sail boom as leverage.   Good job we didn't send that down by road with the mast!!  After 8 downhill locks we stopped at a commercial dock (just before Villegusien) for lunch and a breather, then it was off again for a further 3 locks before we found an absolutely glorious little place at Piepape.  Nothing around, no boulangerie in the village and the nearest shops 5km away!  We decided to take a day off.  Saturday was spent enjoying our wonderful location.  In the end we did bike to the shops but only as a halfway point in our sightseeing around the villages.  It's very rural here!!
So to Sunday 28th and a short day planned for negotiating locks.  We had a lock breakdown which really slowed us up - it's not easy to keep the boat just sitting in a moving body of water so we ran the nose of the boat onto the bank and turned the engine off which gave Victor a chance to cool down!   We finally stopped at Cusy where the guide book promised showers, loos, water and electricity .... hmmm!  We are, of course, self sufficient but it is always nice to shower ashore and it's also nice to have toast for breakfast!!  One bonus though, the water was clear and, as the locals were showing no reticence about jumping in and enjoying themselves, we saw no reason not to join them.
And so to Monday 30th and our marathon lock challenge.  Little did we know when we set off at 8am that we would be struggling with locks for nearly 9 hours, mind you we did negotiate 16 in the process!   We started off with a lock breakdown which didn't help matters and the day really just continued along those lines with stops in locks trying to get out and outside locks trying to get in!  VNF (Voie Navigable Francais) are excellent and we really didn't have to wait longer than 15 minutes for the majority of the lock breakdowns to be fixed but it was a delay we could have done without in 41degrees of heat!     Everywhere we had thought suitable to stop proved impossible.  The banks have silted up over the years and some of the little concrete pontoons are only accessible by shallow draft boats.    Such a shame as some of them looked so inviting, especially the one with a restaurant as well!  Worried that W might not find anywhere nice to stay before the locks closed at 6pm we picked a leafy bank and finally stopped for the night tied onto a pylon with our keel gently nudged into the mud on the edge of the canal.
And so to the last day of July and the end of our sojourn down the Canal entre Marne et Bourgogne.  We finally left the canal at Heuilley, Lock No 43 and entered the Saone.    In the space of 10 days we had negotiated 110 locks, 11 lifting bridges, 7 narrow passages where bridges had once been, 1 short tunnel and 1 long tunnel!    The Saone is lovely.  It's so much wider than the canals although still tree lined but there are far more boats around but the locks are well spaced apart and it looks as though we'll be doing only one lock a day, if that!    Sounds good!!
We moored along the town Quay at Pointillier sur Saone (beware the hidden ledge that runs the length of the Quay) and had a very restful stop.   The town is small so not much time needed to investigate, the supermarket was just on the outskirts with a fuel station too and there was a restaurant serving moules mariniere.    An enjoyable first night on the Saone.